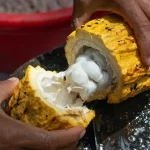 The impossible case of Tony's Chocolonely's cocoa beans from Ghana and Côte D'Ivoire
October 30, 2023
The State of Food and Agriculture 2023: A new paper reveals the hidden impacts of agrifood systems
November 10, 2023
True Price for Sustainable Food Systems at NFP World Food Day 2023 Event
True Price showcased its commitment to reshaping food systems at the Netherlands Food Partnership (NFP) World Food Day event.
True Price Policy Forum: Shaping Policy for Sustainable Food Systems
During the morning session, True Price Foundation hosted the True Price Policy Forum, which drew approximately 40 policy and practice experts. The forum served as a hub for an enthusiastic exchange of ideas and expertise. Distinguished speakers, including Michel Scholte, Sheryl Hendriks, and Eva van den Broek, delivered informative presentations. Roundtable discussions delved into the possibilities and challenges of integrating true pricing into policy to create more equitable and sustainable food systems.
The discussions centred around how True Pricing is intricately linked to addressing the cost-of-living crisis, its potential to ensure fair distribution of profits, and its role in enhancing the affordability and accessibility of healthy food. The fruitful discussions led to the collective formulation of several actionable policy recommendations. These recommendations are now being incorporated into a comprehensive white paper, set to be presented to relevant policymakers in the near future. This Policy Forum also marked the inception of the Community of Policy Practice.
Here are some of the recommendations distilled from the morning session:
Coordinate between Policies: Harmonize various policies impacting the food system, encompassing domains such as agriculture, health, environment, trade, and social protection.
Ensure Transparency: Advocate for the provision of clear and accurate information concerning the true costs and benefits of food production and consumption. This includes disclosing environmental impacts, health effects, and social justice considerations.
Combine Tax Reforms with Education: Employ taxes and subsidies to incentivize healthier and more sustainable food choices while simultaneously educating consumers and producers about the advantages of making such choices.
Set Clear Goals: Establish concrete, measurable, and attainable targets to enhance the food system. This involves objectives such as reducing food waste, increasing biodiversity, and enhancing nutrition.
Improve Nutritional Value of Food Baskets: Ensure that the food baskets distributed to vulnerable groups, including refugees and low-income families, are not only accessible but also nutritious and diverse.
International Collaboration Needed: The global nature of the food industry necessitates international cooperation and shared standards to achieve sustainable pricing.
Basis for Policy Making on Repurposing Agriculture Support, Consumer Behaviour, and Companies: Policies should be rooted in repurposing agricultural support, addressing consumer behaviour, and encouraging responsible practices in companies.
The Need for a Common Vocabulary: Establishing a shared vocabulary and understanding is crucial for effective communication and collaboration in the realm of true pricing.
Create Further Awareness with Governments: Raising awareness among authorities and policymakers is vital to foster support and regulatory changes.
Focus on Changing the Consumer Food Environment: Shifting the consumer food environment towards healthier and sustainable choices should be a primary goal in true pricing policy.
True Price Side Session: Exploring the Real-World Impact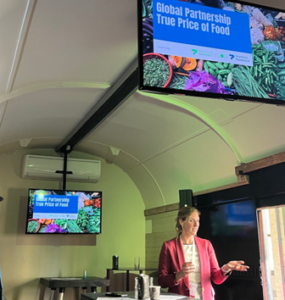 In the afternoon, the spotlight turned to the private sector and their involvement in True Pricing during the "True Pricing: Beyond the Oatmilk Elite" side session. The event explored the True Pricing journeys of major industry actors such as Albert Heijn and Tony's Chocolonely. A panel discussion, featuring Pietro Galgani, Eva van den Broek, Onno van Manen, Paul Schoenmakers, and Martijn Versteegh, deliberated opportunities for the private sector and the dilemmas they face, particularly in improving transparency and data quality.
The session concluded with the official launch of the Global Partnership on True Price of Food, a new initiative designed to encourage widespread adoption of True Pricing across the food sector. As the Global Partnership for True Price of Food expands its reach, it welcomes individuals and organizations to join its mission. Contact us to become a member!
The success of the NFP World Food Day event was a collective effort. True Price expressed its gratitude to the Netherlands Food Partnership, the event's moderator Gilberto Morishaw, all participants, speakers, and organizers. The journey towards a sustainable food system continues, as True Price leads the charge to revolutionize the way we price and value food in an increasingly conscious world.